Now that you've seen the best of the city of Rio de Janeiro, how about stretching the cities close to the region? We recommend these 3 places for you to get away from the city a bit and find beautiful and paradisiacal beaches here. Check out!
ILHA GRANDE
Ilha Grande is considered the second wonder of Rio de Janeiro, after the Sugarloaf Mountain. Lopes Mendes beach, which is located on Ilha Grande, is considered the second most beautiful beach in Brazil.
Ilha Grande is cute and quiet, without cars, with restaurants by the beach, very different from Rio de Janeiro and everything is done walking there. It has more than 100 beaches and boat trips! It has a pleasant, simple, safe climate and I recommend it to everyone who goes to Rio de Janeiro.
To get to Ilha Grande, you have to go to Conceição de Jacarei or Angra dos Reis, which is approximately 130 km from Rio de Janeiro. The boats to Ilha Grande leave every 30 minutes and it takes 15 minutes to arrive at Conceição de Jacarei Island and half an hour from Angra dos Reis.
In Abraão there are tourism agencies that make boat trips and taxi boats and speedboats leave this beach. There are some boat trips, the most famous are: Meia Volta on the Island, Volta Inteira on the Island, Super Sul, Paradisiacas Islands and visit Lopes Mendes beach.
Ilha Grande has a wonderful vibe and energy, with beaches, lagoons and paradisiacal islands. Whoever goes to Rio de Janeiro, I recommend taking this stretch to Ilha Grande, a paradise of peace and calm on earth! At Ipanema Beach Hostel, we can recommend the best tours and agencies to visit Ilha Grande.
ARRAIAL DO CABO
Arraial do Cabo, a beach on the coast of Rio de Janeiro, is approximately 160 km from the capital of Rio de Janeiro and today called the Brazilian Caribbean for its white sand beaches and crystal clear waters.
Arraial is located in the Lagos Region, next to Cabo Frio and very close to Búzios, approximately 40 km away. It is, without a doubt, the city with the most beautiful beaches in the region.
The Brazilian Caribbean is ideal for those who enjoy the beach, as the city lacks other attractions. Despite the exuberant natural beauty through its paradisiacal landscapes, there is still a lack of bars, shops and any other option for programs that we can think of in a city with a good structure.

About the beaches, by the way, the waters are very cold, we can list the most beautiful, in that order: praia do Farol, Pontal do Atalaia Beach, Praia Grande, Praia do Oven, Prainha and Praia dos Anjos.
At Ipanema Beach Hostel, we can recommend the best tours and agencies to get to know Arraial do Cabo.
BUZIOS
Búzios is the most charming beach destination in Brazil, just 160 km from Rio de Janeiro. It was a peaceful fishing village when its beaches began to be frequented for summer holidays, in the 50's. Sometime later, the visit of a young Brigitte Bardot – who spent two seasons in Búzios, between 64 and 65 – ended up revealing the resort to the world.
Búzios has charming and elegant accommodations and restaurants, perfect for going as a couple, but it also offers a lot of nightlife to singles. It has more than 20 beaches, such as: Joao Fernandes, Azeda, Azedinha, Geribá, Ferradura, João Fernandinho, Ferradurinha, Brava, among other options.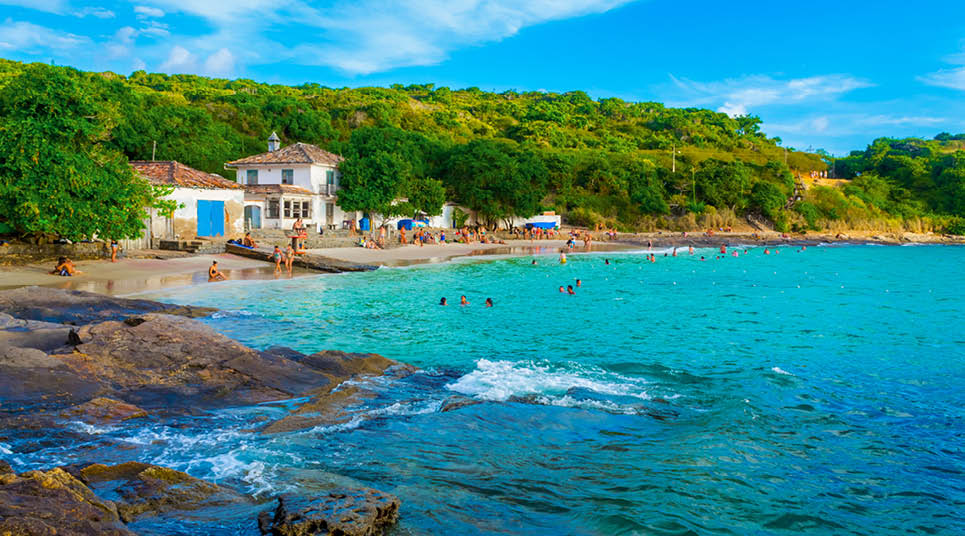 Orla Bardot accompanies Armação beach with a well-maintained boardwalk, and pays homage to the most celebrated visitor to the resort – French actress Brigitte Bardot, who made Búzios world famous after her visits there, in the 1960s.
At Ipanema Beach Hostel, we can recommend the best tours and agencies to get to know Buzios.
So, do you know these three cities in Rio de Janeiro? They are totally different with unique and natural beauties.